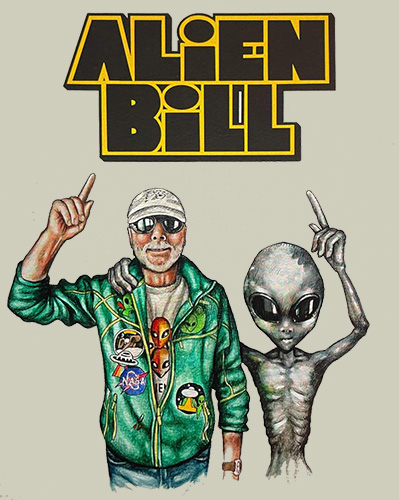 The band first met Alien Bill at one of SPI's paranormal events held in Glasgow in 2016. They immediately made a connection through their mutual interest in UFOs, aliens and the paranormal in general and have become good friends over the years.
Alien Bill is an experiencer. He describes himself as a "down to earth guy" who has "out of this world experiences". 
And we would have to agree.
For someone who has witnessed, and photographed, so much strange phenomena over many years, it's surprisingly refreshing to be able to chat and also have a good laugh, usually over a Bud or four.
Bill recently started building his new website at alienbill.net and asked us if we would write a short piece of music to accompany the visitor as they peruse the site. Of course, we were delighted to do so.

It was a bit of a challenge to write something that would encapsulate not only Bill Rooke the man, but also the width and breadth of experiences that he has had and continues have.
We wrote two pieces: one that reflects the ethereal aspect of his cosmic journey, and one that is more harmonious with his often darker earthbound experiences. We combined these into an edit version for the website.
We plan to expand these into full-length tracks, and write a couple more, that will be made available as an EP to either download for free when you buy Alien Bill's forthcoming book, or stream or purchase through the main online digital channels.
In the meantime, head over to www.alienbill.net to find out more about Alien Bill and have a listen to the tune!